3D Stereoscopic Production & Motion Capture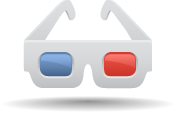 Full-service 3-D Production, 3D Modeling, Visual Effects (VFX)
Strand Studios provides cutting edge 3-D film and video production using the latest stereoscopic techniques, including motion capture, full motion control systems, green screen compositing, 3D modeling/texturing and complete visual effects post-production.
Our talented team of production professionals, visual effects artists and post-production experts can deliver a mind-blowing, effect-driven project - up to feature-length - without breaking your production budget.
Let Strand Studios deliver production value that you've never imagined possible, all in less time than you'd think.