Music Video Production with Serious Visual Effects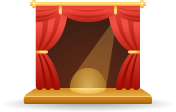 Top Music Video Directors for Major Label or Independent Artists
Strand Studios produces world-class music videos using the latest techniques in Motion Capture, After Effects, Maya, 3ds Max, Cinema 4D, Final Cut Pro, Avid and much more. We combine high concept ideas with solid music video treatment writing to produce big-budget production company results for relatively low cost. Our directors have worked with multi-platinum artists including Metallica, Kid Rock, Erykah Badu, Godsmack, Hilary Duff, Uncle Kracker and dozens more. Let our talented music video directors help you look like the rock stars/rap stars/country stars that you are!
The Best Music Video Treatment Writers in Hollywood
Need a music video concept for your latest song? Strand Studios' writers are the best in the world, and will create a high concept music video treatment that conveys the feeling and meaning of your music, while creating a visually compelling, highly appealing, extremely viral marketing vehicle for your music and your artist as a brand.
Cutting Edge Music Video Producers, Editors, Cinematographers and More
Our pool of music video production professionals extends throughout Hollywood, Los Angeles and the entire United States. We have relationships with the best production companies, top video production equipment rental houses, casting directors and agents. We can provide you with top-notch editors, world-class producers, visual stunning directors of photography and anything in between. Above the line or below the line, we have the relationships to take your major label artist or independent artist music video to a completely different level.